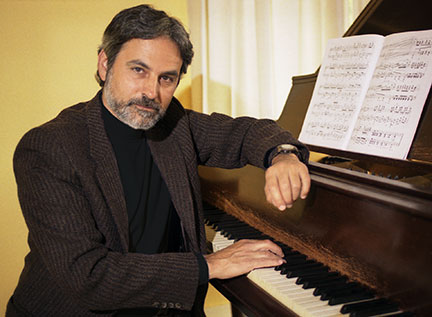 Fred Kronacher is co-founder and artistic director of Musical Experiences, as well as a dedicated and respected piano teacher in Seattle. Mr. Kronacher grew up in New Jersey and began playing the piano at four and a half years of age. He received his BA in piano performance from Ithaca College, where he studied with George Driscoll. He received his Masters in piano at The Manhattan School of Music in New York where he studied with the noted pianist, Robert Goldsand.
Mr. Kronacher performed many recitals, both solo and chamber, in the New York area, including a debut solo recital at Carnegie Recital Hall. He has also served on the piano faculty of the Brooklyn Conservatory of Music in New York.
A resident of Seattle since 1986, Mr. Kronacher has performed in numerous recitals in the Seattle area. He has appeared frequently on both KING-FM and KUOW-FM radio in Seattle. He has served on the faculty of Pacific Northwest Ballet, giving classes in music appreciation.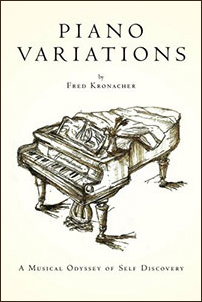 Mr. Kronacher is a dedicated piano teacher and maintains a private teaching studio in Seattle. He is increasingly active in the greater Puget Sound region presenting Musical Experiences programs, following his passion for combining musical education with exciting live concert performances. He is also active in visiting Seattle area public schools, bringing the music and stories of great composers to primary school children.
Mr. Kronacher has recorded seven CDs, including the most recent All Bach Program. He has written three articles for MSNBC on the pleasures of listening to great music. He has recently published Piano Variations, a book-length collection of personal vignettes taken from his life in music. Click here to purchase on Amazon.com.
In 2013, Mr. Kronacher appeared in a live broadcast performance of Garrison Keillor's A Prairie Home Companion at Chateau Ste. Michelle Winery in Woodinville, Washington.
In 2016, Mr. Kronacher relocated to Santa Fe, New Mexico, where he will continue to teach piano. He hopes to perform concerts in the Santa Fe area, as well as returning to Seattle occasionally to perform and visit with longtime friends and supporters.
Visit his website at fredkronacherpiano.com.